Atwater Alumni Association January 2020 Newsletter
A California Nonprofit Public Benefit Corporation IRS Tax #82-2320646
www.atwateralumniassociation.con
**********************************************************
Atwater High School Alumni and Friends,
Welcome to a new year and decade. As we continue our efforts to support both our alumni and the students and staff at AHS, we hope that those of you who have so generously supported us over the last 2 years know how grateful we are for your help. The process of helping others provides a strong feeling of joy that is unique and fulfilling. Knowing that you have aided your fellow alumni and classmates and those who will one day join our ranks should make you feel proud. We believe that AHS alumni are a special group of people, we have shared experiences that no one else has and they remain with us as we continue our journey through life. Best wishes to you for the year and decade ahead.
We will continue our efforts in the year ahead and hope you will continue to support us, for those who have not joined we hope you will consider coming along, any donation is appreciated and recognized. All funds go to support the students and staff at the high school. You can follow along on the progress through our website at www.atwateralumniassociaiton.com and the Facebook group page. Falcon Strong is as true today and it ever was, there are some amazing things happening at AHS and you should all be proud to call yourself Falcons.
Best wishes and Go Big Blue!
Atwater High School Alumni Board of Directors
**************************************************************
The Class of 1970 has announced that they will hold their 50th Year Reunion on  Friday July 3, 2020. More information to come.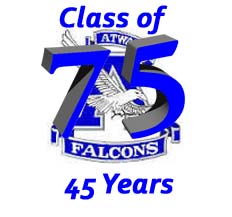 The Class of 1975 has announced that they will hold their 45th Year Reunion on Saturday September 12, 2020. Mark your calendars, more information to come.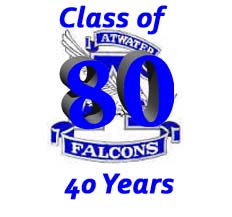 The Class of 1980 has announced that they will hold their 40th Year Reunion during Labor Day weekend, September 5, 2020. Mark your calendars, more information to come.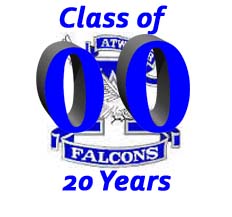 The Class of 2000 Reunion Committee has announced they will hold a 20thYear Reunion on June 13, 2020. More information to come, mark your calendars and prepare to party with your classmates.
A group of alumni is working on organizing a multi class reunion for those who attended AHS from 1958 to 1965. This includes the original class at AHS and the first four-year Senior and Junior classes. They are looking for classmate information in order to contact them. If you were at AHS during this time and are interested in this event, please send your contact information to the association or to Geri Freitas through her Facebook Messenger site.
If your class year ends in a 0 (70, 80, 90, 00, 10). or 5 (65, 75, 85, 95, 05, 15). now would be a great time to organize a committee, have some fun and start planning for a reunion this year. The Alumni Associate is willing to help, and we have some experts who have had experience in the organizing of these events and will be happy to share some best practices with you.
****************************************
Milestone Year Memories
The following class years are celebrating milestones this year. Here are some interesting things that happened during the months and year they graduated. There were many interesting events in every month, and these were selected as only one interesting and, in some cases, fun example.
January
1965 – Jan. 15 – The rock group The Who released their first album "I Can't Explain.
1970 – Jan. 22 – The first scheduled flight of a Boeing 747 aircraft left New York for London.
1975 – Jan. 4 – President Gerald Ford signed legislation making 55 miles an hour the maximum speed limit across the United States.
1980 – Jan. 8 – The NCAA decides to sponsor woman's championships for the first time in 5 sports.
1985 – Jan. 20 – Super Bowl XIX, San Francisco 49ers beat the Miami Dolphins 38-16. Joe Montana named game MVP.
1990 – Jan. 28 – Super Bowl XXIV, San Francisco 49ers beat Denver Broncos 55-10. Joe Montana named game MVP.
1995 – Jan. 12 – Murder trial of O.J. Simpson begins in Los Angeles.
2000 – Jan. 13 – Bill Gates steps down as head of Microsoft and promotes company president Steve Ballmer to replace him.
2005 – Jan. 26 – Condoleezza Rice is sworn in as Secretary of State, the first African American woman to hold the post.
2010 – Jan. 2 – The song "Tiki Tok" by Kesha reached number one on the Billboard charts and would remain there until March 6. Became the number one song of the year.
2015 – Jan. 7 – Terrorist attack on the offices of satirical newspaper "Charlie Hebdo" in Paris kills 12.
***************************************
Alumni News
Special thanks to the following alumni for their generous donations during the month:

Ruth Eisenmann (66), Marilynn Skaggs (68), Johnel Maryland (66)

Our thoughts and prayers go out to the family, friends, and classmates of Andy Cordova (69) who passes away this month. Andy was a veteran and great classmate.
Also, sorry to report the loss of Bruce D. Langley (91) who passed away in late December.   Condolences to his family, friends and classmates.
The AHS Wrestling Program thanked and recognized Jamill Kelly (95) for his help in getting new Adidas wrestling singlets for the team. Jamill is an Olympic Silver Medal winning wrestler and strong supporter of AHS.
Congratulations to Carol Mancebo Davis (67) and Lance Davis (66) on the celebration of their 50th wedding anniversary.
Congratulations to Judy Zoller Crotts (66) and Jim Crotts (66) on the celebration of the 51st wedding anniversary.
Congratulations to Vangie Friesen Pierce (67) and Burl Still on the celebrations of their 45th wedding anniversary.
Condolences to the family and friends of Wyatt Pimentel (16) who passed away this month. Wyatt was a standout baseball player and member of FFA and AHS and will be missed.
Congratulations to Gregory Hansen (78) and his wife Jana on the celebration of their 31st wedding anniversary.
Congratulations to Gary Thornton (82) and his wife Katie on the celebration of their 29th wedding anniversary.
Have a life event you would like to share with your alumni friends. You can submit items through the comment section of the website or sending an e-mail to AtwaterAlumni@outlook.com. Please include your graduation or years attend and a brief description of your even. Items will be published monthly on the newsletter and website.
**********************************************
AHS News
It is with a heavy heart that we announce the loss of Merced Union High School District (MUHSD) family member Dave Honey. A longtime Atwater resident, Dave served on the Board of Trustees for 20 years (1997-2018) and was a fixture for many years at Atwater High first as an instructor and later as the Dean of Student Services overseeing student activities and athletics.
While building a top-tier sports program at Atwater High, Dave was a champion for gender equality and led a movement that provided opportunities for all students. For his efforts, he was recognized by the California Interscholastic Federation (CIF) earning Sportsman of the Year. In 2012, the Atwater High football field was named "Dave Honey Stadium" in his honor.
During his tenure on the Board, Dave was an avid supporter of Career and Technical Education (CTE) and helped shape the early stages of the district's highly touted CTE Program. He was also instrumental in the planning Atwater's second high school, Buhach Colony High.
"MUHSD wouldn't be where it is today without Dave Honey," said MUHSD Superintendent Alan Peterson. "At MUHSD we talk a lot about making an impact with students, and while many referred to Dave as "Mr. Atwater", his impact was felt district and county-wide."
*************************************************
Congratulations to Eryka Lepper for placing first in the Rotary District 5220 Speech Contest. She now moves on to area wide competition.